Disclosure: This article contains affiliate links (Not every link). I will earn a small commission without any extra cost to you if you make any purchase using the links.
If you own a startup or agency or have a digital marketing company and handle countless clients at the same ( In easy words let's say "You handle two clients at times), but what if one more comes and how are you gonna handle three clients at the same time.
Now you don't have to worry anymore about managing clients, billings, everything an agency, freelancers get while such kind of online where client and skill is everything.
Ask why?
I have an awesome tool by flywheel called " Growth Suite" which is fully customized and developed for people like you only ( I mean freelancers, those who run business and entirely data-driven focus is on clients.
In today article you will learn "How you can grow your agency Business faster than anyone with the help of Growth Suite, So this post is all about how you can grow your business also I am going to share with you an honest review on "Flywheel Growth Suite Review"
Excited? Let's dive right in.
What is Flywheel Growth Suite?
---
Flywheel growth suite is developed by one best-managed WordPress hosting company provider called Flywheel, they are one of the few hosting providers whose completely focus on data-driven for agencies, businesses, freelancers, it's quite simple for those who HANDLE client services business.
They have recently launched its newest product called "Growth Suite" which is one perfect solution platform for people like you (Freelancers, agency., business owners) designed to grow business quickly with the help of top tools which are really in need of running a business.
They have recently launched its newest product called "Growth Suite" which is one perfect solution platform for people like you (Freelancers, agency., business owners) designed to grow business quickly with the help of top tools which are really in need of running a business.
You can manage almost everything from just one platform so you don't have to rely on third-party software for billing, client management, list for services and the list goes on and on…
Here are some of the quick highlighted features you can get in the flywheel growth suite:
Client and site management
Branded client reports
Billing
White Labelling
Collaborate with your clients
Managed WordPress hosting
FlyWheel Growth Suite Best Features and Benefits
Before we dive deep into the ocean of Growth suite review, here are some quick benefits that Growthsuite and help your business to grow and be less dependent on third-party software, in the end ultimately it reduces billing cost.
Automatically bill your clients on a recurring basis
Effortlessly bill your clients for projects and one-time services
Bill your clients in the currency of their choice
Prove your value to clients with recurring agency-branded reports
Create predictable revenue based on intuitive insights
Manage all your sites from a single place
Establish a professional (and customized) client experience
Set up a custom library with your unique services to reuse
Get speed, security, and support with our trusted managed WordPress hosting platform
Site and Content Management
Automated Notifications and Reports
Personalized Dashboard
Automated communication
Problems that Growth Suite Can Solve
Handling two clients at the same time is somehow easy but what if the case is more than the numbers? Subscribing this word, I have collected some of the huge problems agencies, freelances face with handling client business and how growth suite can help to solve:
Revenue tracking can be a headache
Billing and invoicing is a lot to manage
Putting your clients first is hard when you're bogged down with inconsistent workflows
You want to grow, but being data-informed is not as easy as it may sound!
Different apps and software can become a lot to manage
Fully integrated with Stripe
Automated communication
Resell managed WordPress hosting
Growth Suite can solve all these pain and problems under one room platform by a set of different tools from WordPress hosting to all the features such as billing, white labeling so on. Now let's jump right into the Growth Suite Review.
FlyWheel Growth Sute Review: Is It The Best Tool For Growing Agencies?
Now let us find out in detail why every business owner must taste and try Growth Suite for their business. Now you already have an idea of its features and what are the problems agencies face each day. Let's dive deep into Today "FlyWheel Growth Suite Review"
1. Custom Dashboard
Whenever we signup for any tools, the first thing for most of the cases is their dashboard because sometimes we have to learn how the dashboard works, and takes some time to make the game easier.
But.
Growth Suite comes with a personalized Dashboard, which means you can customize the dashboard the way you want to look in one single screen you view revenue, monthly, quick actions to monthly recurring revenue, and payments or clients.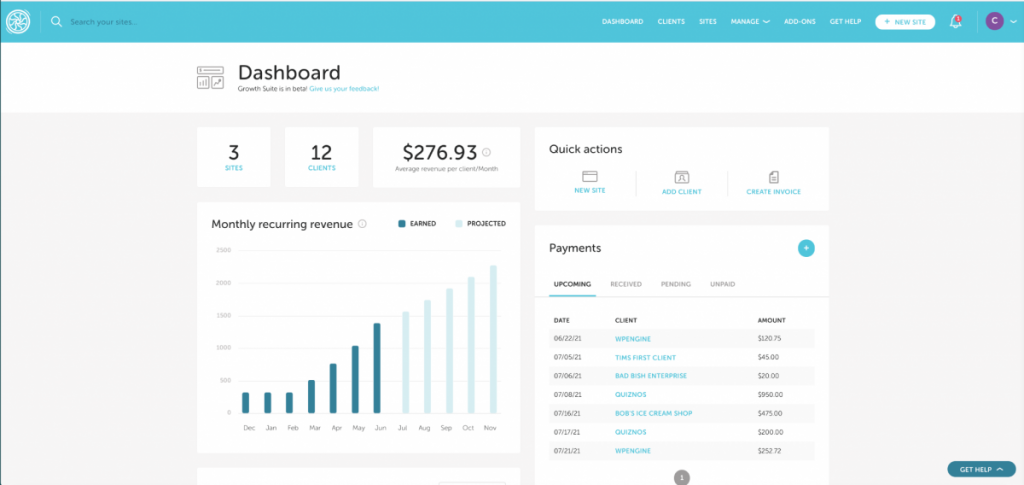 This is one of the best features which I found in Growth Suite. Growing a business with an understanding of its whole core system is so easy, you will never be stuck. You will also have a dedicated manager from Flywheel, who will help to create a personalized dashboard that shows all the information you need on-screen in real-time.
2. Invoice your clients efficiently and reliablity
When you handle hundreds of customers and clients, I know it's tough and harder when it comes to the payment modules. Another great feature if you use to integrate your business fully with Growth Suite is their one-time invoicing feature.
This means you can get paid by your clients for the services you charge in the way you want. You can get paid for one-time and recurring services, a Cool feature right?
Yup! I know They manage all your business under the platform as being said above. You can manage one single client easily but handling more than two-plus is somehow difficult and this is where the Growth suite takes the game. Now you never have to worry about payments delay, invoice
3. Scope Services Your Offer to Client Under On Page
With the help of a growth site, you can list the services you provide on just one platform. If your business offers lots of services such as website designing, content writing, SEO, Digital Services then this is where the great tool helps.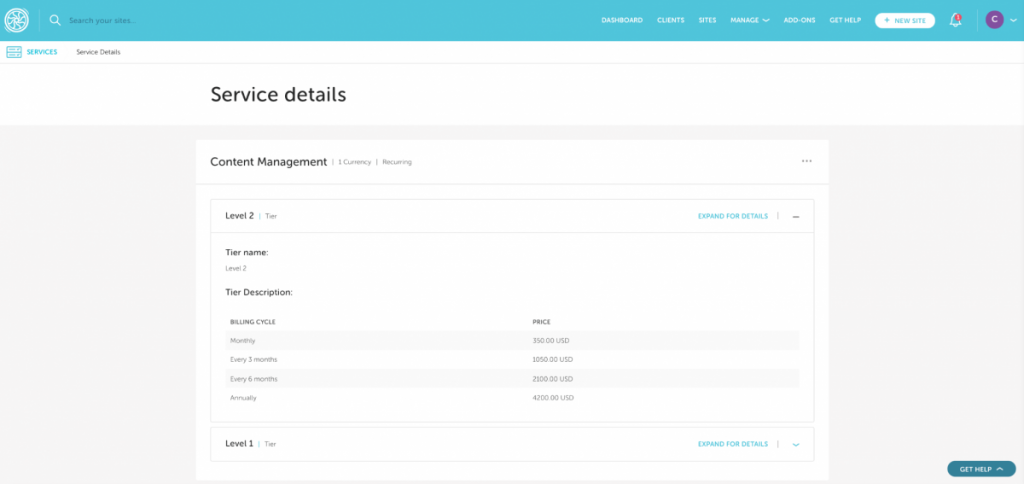 You can easily list your services at a time and let them know what services and charges you provide under one platform with in-depth analysis.
4. A Sold Rock Managed WordPress Hosting
Flywheel also offers managed WordPress hosting to re-sell to your clients which are very affordable and come with sold rock features that can help you grow your business quick
What I mean, now you don't have to rely on other web hosting providers just to provide a host to your customers, under one umbrella, under one roof, you can easily offer web hosting also to your clients.
5. White Labelling
Following the above feature, with each resells hosting plan, you will get white labeling features which means everything will be under your business brand name from name to everything this is what white labeling is.
Your customer will not see the label of Flywheel, but yes just your agency business name, this is another great feature that comes in.
6. Site Management
Now you can easily manage the website, pages, blogs, store of your clients, in case if they are not active, and one of the great features I loved the most, is the recovery.
When you choose Growth Suite to manage your business another great tool in their recovery, which means "If by mistake your client deleted some pages, then with the help of this tool you can easily restore the website that has been accidentally deleted by you or your client.
With just one feature, your business can grow faster and smoother. I actually found this tool is really worth it for any kind of business, helps to save billing in third-party software along with the employee.
7. Automated Notifications And Reports
Now you don't have to look at your client sites, the project actively, all you gotta relax, another great feature you can get in Growth Suite is their automated notifications and reports for everything such as billing to website hacked.
Yup, you heard it right!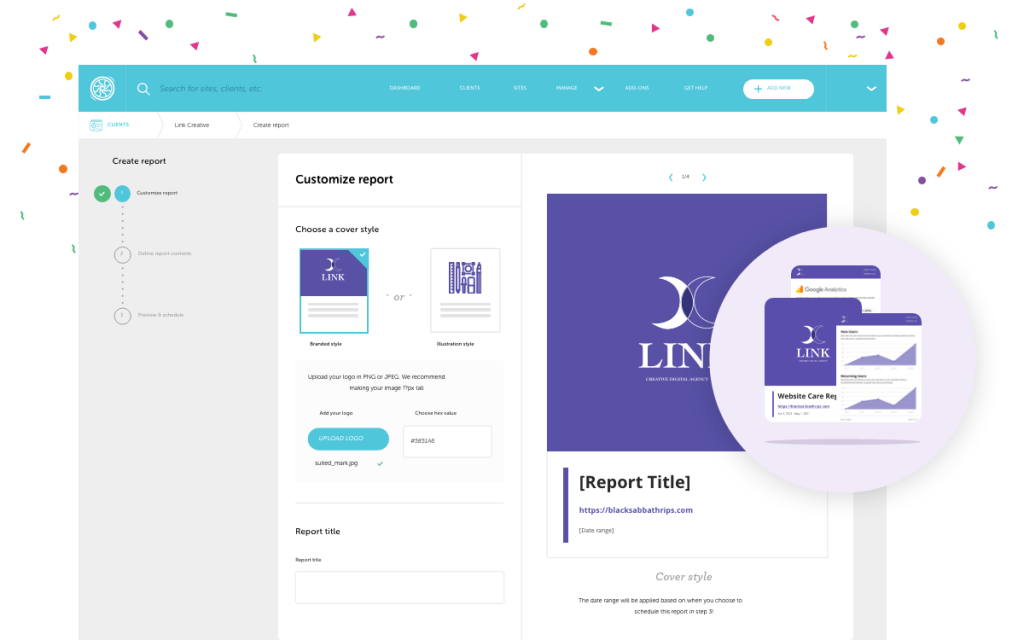 Let's say your client's business website got hacked, or page break, etc you will get an in-depth automated notification with a report from where you can easily tackle out that problem.
This feature is really important for any type of business and thanks to Growth Suite, they also provide in-depth analysis of what content is working the best and what now.
What Other Agency Business Owners are Speaking ?
Here are some real reviews of what other people are speaking about flywheel from real customers:
"Everything has been seamless and all of the features are incredibly helpful. Previously, I had no clue what my monthly income was, now I'm tracking my overall ROI and making data-informed decisions."
–Timothy Farzalo, Web Designer / Online Strategy / Consultations Thunderlight Media
"Growth Suite is the evolution of billing for freelancers and agencies that we've been missing. It's hands-down the best way to bill your clients."
Conclusion
Flywheel Growth suite is the only tool you will need to grow business smoothly and faster, along with managed WordPress hosting provider widely used and trusted by the business owner itself.
I highly recommended you to give a try to Flywheel growth site, once you use you will never leave and migrate to other tools. All in one package for the agency, business owners, and freelancers, including hosting, billing, and client management.
THIS Tool has everything you would need to run an entire agency business smoothly, faster and trustworthy.
So what are your thoughts about the detailed Flywheel Growth Suite review?
Did you like my today Flywheel Growth Suite review?